Through out this book, I cover different life topics and how best to acquire the mindset that will create happiness in those areas. Combined, there are 63 pages of guides, motivational texts, & affirmations that assist you in creating a life you love.
Ch 2 Self Love
If you're having issues with loving yourself and feeling empowered as a woman, this chapter helps you acquire the mindset of self love, confidence, personal style, posture, countenance and sex appeal.
Ch 3 Wealth & Prosperity
If you have goals to live a more fruitful life, money, success, giving, and adopting a wealthy mindset is covered in this chapter.
Ch 4 Relationships
If relationships are currently an issue for you, this chapter covers friendships, attracting love, and how to deal with breakups and infidelity.
Ch 5 Personal Development
Making decisions and coming into new self are a vital element toward asking for what you want. This chapter covers how best to prep your day before it starts, how to make more productive choices, and helps you to understand yourself as a co-creator.
Ch 6 How-To Create Your Reality
After you've figured out what you want, it's time to go get it! This chapter covers the various ways you can incorporate what you've learned in the previous chapters into your ideal reality.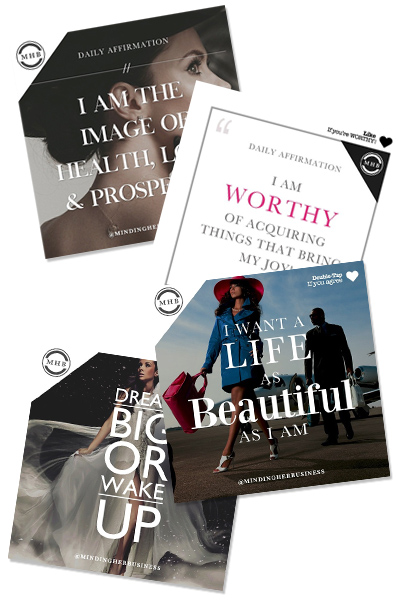 $7.00
by Ivy Ejam
Cover illustration by Ariel Vittori
Click here to submit your review.
---
---
Just wow!
Feb 24, 2016 by Jen

Minding Her Business

, USA
I just bought and finished reading Minding Her Business and I must say I am pumped and lifted! As an Entrepreneur it can be easy to feel down and stressed when things just don't go the way you'd like. This book has taught me that everything happens based on your mindset and in order to change your circumstances, you must change your thoughts. Ivy thank you for putting this amazing book together! I look forward to talking to others about how this book has changed my life.

business 0.3
---
My personal bible
Nov 30, 2015 by Chilla G

Minding Her Business

, USA
I am in love with this book I have always had a problem in believing the law of attraction, but since I have started reading this book I believe more now than ever that the law works and I just can't get enough of the affirmations in the book this is my personal bible whenever I am feeling down I just go to reading

business 0.3
---
Nov 23, 2015 by Andrea Del Aguila

Minding Her Business

, USA
I just recently bought the e-book "Minding her Business" this week and Wow!! I have been struggling with confidence, and self love, to name a few. But the concepts you explain in this book makes so much sense, I thought to myself, why is it that I didn't understand this before?!?! This book is a must read and I really hope there can be a Spanish version soon. Ivy, these words are so powerful and meaningful. So many women and so many people need to hear your message!

business 0.3
---
Inspiration finess
Nov 22, 2015 by Kimyahta

Minding Her Business

, USA
This book is very very motivating and much needed food for the brain. This book helps to center your thoughts and helps to reshape the way you think and believe that ANYTHING is possible to achieve. Developing new ideas just happen to appear more clear and a path of direction doesn't seem so distorted. GREAT NO AWESOME BOOK!!!!

business 0.3
---
Absolutely Empowering! (:
Nov 18, 2015 by Jasmine

Minding Her Business

, USA
Forever re-reading this one.. Minding Her Business helped me make some much needed shifts. Self love, confidence, relationships, love, success, personal development. Definitely recommend it to any women looking to make changes in their mindset on life. Become the woman you are meant to be, regain your confidence, know your worth, love yourself unconditionally, attract success and loving relationships.. you deserve it all! This book is an investment that will help you become the best version of you.

business 0.3
---
Love It
Nov 02, 2015 by Lesley Baez

Minding Her Business

, USA
I have built my confidence, learned to love myself first and figured out what kind of people and lover I want in my life. I have been more happy and energized saying my affirmations for the day and having a positive mindset. Thank you Ivy Ejam!

business 0.3
---
Great Book
Aug 27, 2015 by Elicia

Minding Her Business

, USA
I follow Ivy's MHB instagram account and was really pleased and excited she wrote an ebook. Her instagram posts encouraged me so much that I took an idea I had and instead of just thinking about it, I put it into action and started a business along with my full-time job. I read this book in two parts as I am so busy with work. I ended up completing it on the beach, this weekend. I will go back to it again and again as her words were inspirational, insightful and of course motivational. It's an easy read as well. I highly recommend it. There is something there for every woman.

business 0.3
---
Made for the Dreamer in every Female Entreprenuer
Jul 25, 2015 by Shirley

Minding Her Business

, USA
I read this book in one day! It is very well written and easy to relate to. Although I have read the basic concepts of this book in many forums, I love the fresh perspective that Ivy was able to portray in this become. Speaking as a fellow Goal Digger, I highly recommend the book, as it provides not only words or wisdom, but an plethora of inspiration that I can carry with me DAILY. Thanks!

business 0.3
---
Wonderful, Insightful and Inspirational!
Jul 07, 2015 by Melissa

Minding Her Business

, USA
This book is worth so much more than $7. I expected to find a how to guild on being an entrepreneur, but ended up getting so much more. I definitely recommend this book to any and all women looking to live their best life.

business 0.3
---
WORTH SO MUCH MORE THAN $7
Jun 26, 2015 by Jazmyn

Minding Her Business

, USA
Let's just say once I started I could not stop. Packed to the hilt with information that is guaranteed to inspire you and help you grow!

business 0.3
---
Minding Her Business

, USA 4.9 5.0 22 22 I just bought and finished reading Minding Her Business and I must say I am pumped and lifted! As an Entrepreneur it can be easy to feel down and stressed when things just don't go