Through out this book, I cover different life topics and how best to acquire the mindset that will create happiness in those areas. Combined, there are 63 pages of guides, motivational texts, & affirmations that assist you in creating a life you love.
Ch 2 Self Love
If you're having issues with loving yourself and feeling empowered as a woman, this chapter helps you acquire the mindset of self love, confidence, personal style, posture, countenance and sex appeal.
Ch 3 Wealth & Prosperity
If you have goals to live a more fruitful life, money, success, giving, and adopting a wealthy mindset is covered in this chapter.
Ch 4 Relationships
If relationships are currently an issue for you, this chapter covers friendships, attracting love, and how to deal with breakups and infidelity.
Ch 5 Personal Development
Making decisions and coming into new self are a vital element toward asking for what you want. This chapter covers how best to prep your day before it starts, how to make more productive choices, and helps you to understand yourself as a co-creator.
Ch 6 How-To Create Your Reality
After you've figured out what you want, it's time to go get it! This chapter covers the various ways you can incorporate what you've learned in the previous chapters into your ideal reality.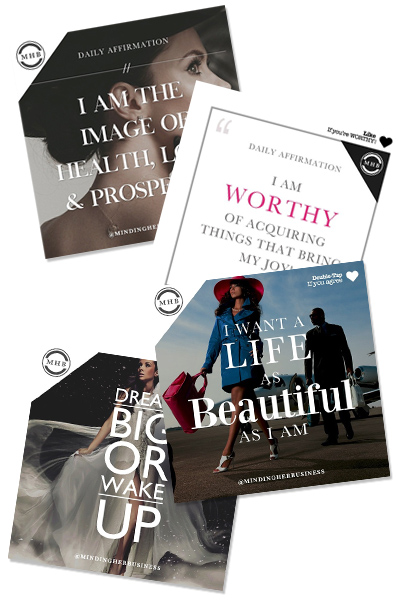 $7.00
by Ivy Ejam
Cover illustration by Ariel Vittori
Click here to submit your review.
---
---
Amazing !
Jun 19, 2015 by Kilara

Minding Her Business

, USA
For months I was making Screenshots of nearly every posts and comments on IG because it's amazing how woman power belief can bring motivation and inspiration. this book is awesome and inspiring and will make every woman more successful than they ever was. A great guide which will make you take YOUR own right way so you MUST take a look !
Woman needs changes, woman must regain respect, woman can change everything here. we want to be remembered. legends are remembered. we want to be legends.

Response: Yes ma\'am, we ARE legends! Thanks for your review :)

business 0.3
---
Entrepreneur Must Read
Jun 19, 2015 by Britney M

Minding Her Business

, USA
I finished this book in about an hour. As a dreamer this book motivated me to put my dreams first and finally execute my ideas! The book is worded perfectly for a 19 year old entrepreneur like myself. Becoming a young women the affirmations give me guidance and reassurance of the person I am working so hard to become. Check out MsBritneyM.com for a full review in a few days! #GirlPower

Response: Awesome, glad to hear you\'re starting now while you\'re young! Time to start executing!

business 0.3
---
Minding Her Business

, USA 4.9 5.0 22 22 I just bought and finished reading Minding Her Business and I must say I am pumped and lifted! As an Entrepreneur it can be easy to feel down and stressed when things just don't go