Through out this book, I cover different life topics and how best to acquire the mindset that will create happiness in those areas. Combined, there are 63 pages of guides, motivational texts, & affirmations that assist you in creating a life you love.
Ch 2 Self Love
If you're having issues with loving yourself and feeling empowered as a woman, this chapter helps you acquire the mindset of self love, confidence, personal style, posture, countenance and sex appeal.
Ch 3 Wealth & Prosperity
If you have goals to live a more fruitful life, money, success, giving, and adopting a wealthy mindset is covered in this chapter.
Ch 4 Relationships
If relationships are currently an issue for you, this chapter covers friendships, attracting love, and how to deal with breakups and infidelity.
Ch 5 Personal Development
Making decisions and coming into new self are a vital element toward asking for what you want. This chapter covers how best to prep your day before it starts, how to make more productive choices, and helps you to understand yourself as a co-creator.
Ch 6 How-To Create Your Reality
After you've figured out what you want, it's time to go get it! This chapter covers the various ways you can incorporate what you've learned in the previous chapters into your ideal reality.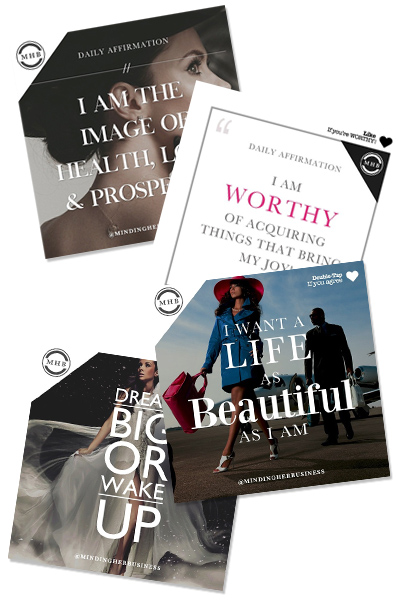 $7.00
by Ivy Ejam
Cover illustration by Ariel Vittori
Click here to submit your review.
---
---
Minding Her Business Truth!
Jun 23, 2015 by April

Minding Her Business

, USA
I absolutely love this book! Inspirational, rewarding & motivaing to say the least. I recommend this book not only for the young woman who is on her way out into the world but also to the woman who has been there done that & maybe struggling with life. The author offers up some awesome advice & strategies to help us all get to that desired place in life. Please take the time out to read this book & gain as much insight as possible! You won't regret it! Thank you for this book!!!!!!

business 0.3
---
Intelligent, Precise, Uplifting & Inspirational!
Jun 22, 2015 by Roseanna Rodriguez

Minding Her Business

, USA
The author is an intelligent classy young woman who writes the book where her messages are straight to the point, yet the messages go far. This book is going to be at the top of my book list and I know it will help guide me daily in reaching my goals. This book is just what I needed at the point in my life as it covers many different important topics for driven women. I would recommend this to others who are thriving upwards in life, in both personal & professional aspects. I look forward to reading more material in the future from this author, she is talented!

Response: Thank you so much for your review my dear. So very happy to hear that you\'ve found it a helpful read! Much blessings to you on your journey to an extraordinary life!

business 0.3
---
What a beauty of a book!
Jun 21, 2015 by .

Minding Her Business

, USA
The book came just a time I needed something of this nature to remind me of my purpose. It's everything expected of MHB and so much more! Her beauty and wisdom pours right through the entire read. I so wish every woman would have their own personal copy. I'm definitely referring it to my book club. I feel so enlightened. Thank you for the gift of a wonderful read Ivy!

Response: Such a pleasure, as always. So happy to hear you\'ve found quality in the read. :) Hope your book club enjoys it!

business 0.3
---
Jun 20, 2015 by Parv

Minding Her Business

, USA
Just want to express my deepest gratitude for an excellent and worth reading book. Thank you for all the great tips provided and easy to follow layout. Xx

Response: Thank you so much for the review! Glad you enjoyed it :)

business 0.3
---
Life changing book worth more than $7
Jun 20, 2015 by Antoinette

Minding Her Business

, USA
I am so Thankful and Grateful to you Ivy for doing something as spectacular as this. This book is Perfect. No beating around the bush. Its hard to find the words sometimes without sounding as if its in code and you have definitely been divinely led to them. I strongly recommend this book for even men. I Love love love it and i wish i could have given it more stars. I love it more because it speaks TRUTH.

Response: Thanks for your recommendation, Antoinette! And my pleasure!

business 0.3
---
Yayeeee A Book!
Jun 20, 2015 by L. Dickinson

Minding Her Business

, USA
I stumbled across the motivational post on instagram a few months back. Reposting them and others inspired by them and repostinf the same. I asked if there was a book available and she promised there was one in the making. Love every detail. The cover immediately became my laptop screensaver within hours of it's release and my download. Now download on both my laptop and phone, I have enjoyed thumbing through the pretty pages, reading random quotes and paragraphs. It will become a part of my daily morivational tools to start my day.

Response: Spectacular! I\'m so happy you enjoyed the visual appeal of the book as much as the context within it. Both were definitely an important element to bringing the motivation of a \"beautiful life\" to life!

business 0.3
---
Very Informative
Jun 20, 2015 by Vanessa

Minding Her Business

, USA
Couldn't stop reading. Information was to the point. It motivate an individual to do so much more in life. Very good read.

Response: Fantastic, glad you enjoyed!

business 0.3
---
Loved it
Jun 20, 2015 by Nneka

Minding Her Business

, USA
This book was great loved it. Especially the end when she said she knows exactly what we are growing through. I will be journaling everyday and I bought the app! I feel connect to this other because she is Nigerian woman keep up the great work 9ja stand up !

Response: Woohoo! I know you will enjoy \"As-If\" journaling as much as I do! 9ja, stand up! haha

business 0.3
---
Feeling the High Vibes!!
Jun 19, 2015 by Hastie

Minding Her Business

, USA
Wow! This book was the perfect dose of motivation and how-to after a tough week of people dampening my vibe. Just one page in and I was feeling elevated and back on track to working on the life of my dreams. I'm not aware of any other entrepreneur who captures the mindset of manifestation into images and words quite like Ivy. She is truly in a league of her own and I only wish my younger Self had access to such wisdom way back when. I found myself sitting up straighter with each passing chapter and walking much taller hours after I had finished... you will too!!

Response: Thanks for your review, so happy to hear that it\'s having a positive affect on your self impressions. That\'s what it\'s all about!

business 0.3
---
Couldn't stop reading
Jun 19, 2015 by Frenie

Minding Her Business

, USA
Started reading this book yesterday night annd I couldn't stop reading it . I love the fact that she encourage to believe in yourself before trying to archieve your goal , build your business . Through the book you find affirmations , advices on how to change your mindset. thanks Ivy for motivating young women everyday on Instagram and now with this book!!

Response: Such a pleasure, glad you are enjoying the book thus far :)

business 0.3
---
Minding Her Business

, USA 4.9 5.0 22 22 I just bought and finished reading Minding Her Business and I must say I am pumped and lifted! As an Entrepreneur it can be easy to feel down and stressed when things just don't go